Ehehehehehek hello my dear earthlings! :D
I know I was so busy on last few weeks but still, I have that lazy part of me HAHA.. Even though I have free time while I'm at home... Yeah, I have finished my Semester 1 Final Exam last week.... I'm happy for it but at the same time I am feeling nervous,waiting for the result... I've done my best,so I hope for the best.! :)
So, what should I write now? I often lose my ideas when I start typing.... Zzzzzz I hate it when this happens... I really don't have any productive days now.. All that I did was talking to people,tweeting through Twitter,commenting on Facebook and yeah I know all of this are boring.
That's making me feel so troublesome. Know what? Cause I am that little girl who loves doing many things rather than sleeping,eating and doing those stuffs that are really boring.. Okay hold on,this post is getting bored. Zzzzz..
I'm making plans with my long best friend...Fid and Bee... I think it's better for us to see each other again this Saturday.. Honestly,Fid wanted to see me a long time ago but I keep having important stuffs that need to be done on that day...Urghhh not that I'm avoiding her.. I hope she won't have that feeling..
Well as for Bee, I'm sorry dear... I'm not really missing you right now lol hahaha cause we're housemates for more than 3 months ! hahahahaha Yes, Bee was accepted as a UniMAP student too and we're living in the same house... It's just that now we're having a month holiday so we're staying with our parents.
Sorry for this boring post hahahaha.. well let me give you a quote saying,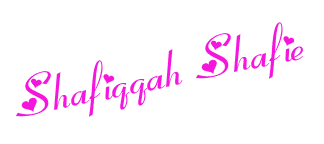 "Bored of
being boring
because
being boring
is
bored"
Much love xoxo,